Rising 6th Grade Parent Night
HONOR ROLL PROGRAM
The St. Johns County School District Honor Card program has gone digital!  If your child is on the A/B honor roll and in grades 3 – 12, you have the opportunity to receive discounts at some very fun and exciting places in St. Johns County.  Instead of paper honor cards, you will now show business participants your phone and receive these discounts. 
On your smart phone go to https://myhonorcard.com.   Place your child's student ID number and date of birth in the boxes.
Pacetti Bay Middle School regularly uses volunteers in a number of areas such as textbook room, concessions, proctoring, field trips, chaperoning, event ticket sales during lunches, sporting events, drama productions, band, club sponsors, parent conferences and PTSO – the opportunities are plentiful! They exist during school and after school hours so helping out can fit almost anyone's schedule!
For the safety of the students and staff at Pacetti Bay, St. Johns County School District has a policy where all visitors must complete a volunteer online school access form which is good for three years. When doing so you are agreeing to a criminal background check and a sexual offender check. You are also agreeing to abide by the policies and procedures of the St. Johns County School Board and its facilities while volunteering. The process can take two – six weeks to process your form.
If you have any questions feel free to contact Kara Wolfe
FortifyFL is a website and app developed at the direction of the Florida Legislature. Any student, educator, parent or member of the public can report school safety concerns directly to law enforcement and school administrators anonymously and easily through the FortifyFL app or getfortifyfl.com.
ESE Parent Survey
Each year, the Florida Department of Education (FDOE) conducts an Exceptional Student Education (ESE) Parent Survey. The survey is open to all parents of children with an individual education plan (IEP) receiving ESE services from preschool age through grade 12.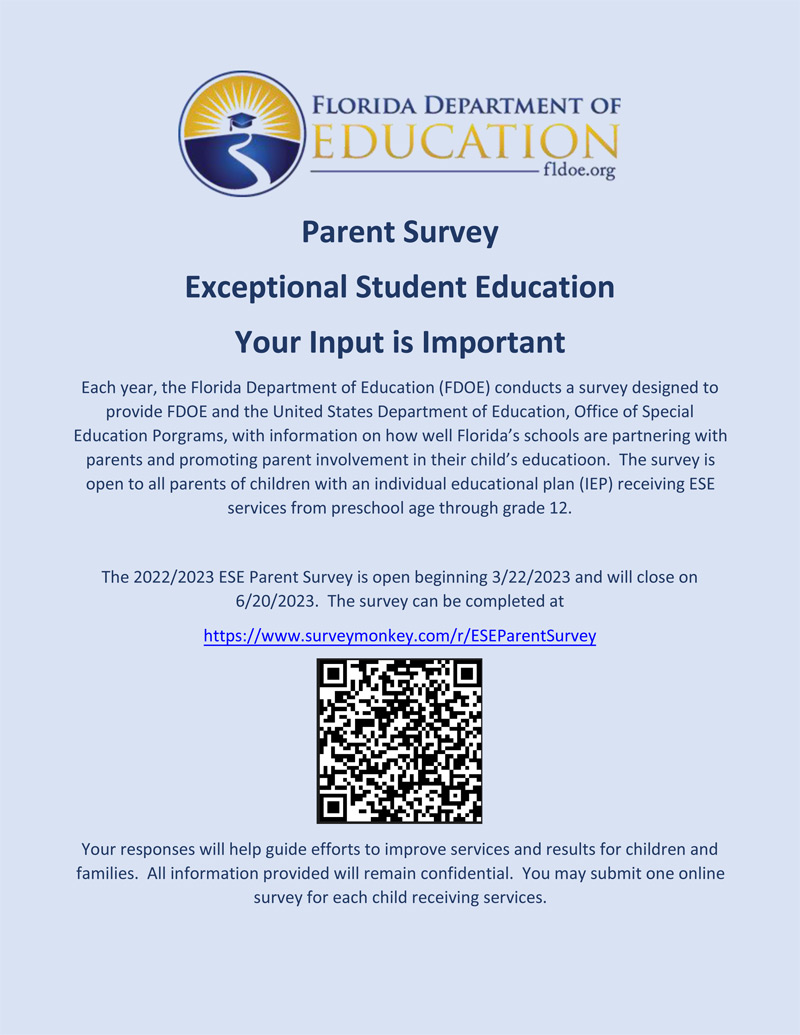 2022-2023 Social Studies Instructional Materials Adoption
The St. Johns County School District has begun the review process for the Social Studies Instructional Materials Adoption. Once available for review, the digital resources will be posted on the Instructional Materials Adoption web page and available for review. The core resources that have been submitted for evaluation were selected from the state adoption consideration lists when available. Additional resources for advanced programs may be reviewed from materials listed as appropriate for the program indicated.
Some print materials may be available for review. If you would like access to the available printed materials or require assistance reviewing the online resources, please call the Instructional Resources and Media Services office at 904.547.3947. Materials are available for review from 8:30 AM - 4:00 PM when district offices are open.
We encourage parent and community participation in our adoption process. If you would like to serve on a school committee and formally review the resources as a part of the school review team, please contact any school or our office at 904.547.3947 by April 21, 2023. Committee membership is limited. School administrators will select the appropriate number of reviewers from the list of interested participants.
Request for Community Input
As a part of the adoption process for Social Studies Instructional Materials, all St. Johns County residents are invited to complete an evaluation of the instructional materials being considered for adoption recommendation from April 3rd through May 1st.
To submit your evaluation, you will need to create an account at EdCredible.com and select the Social Studies Adoption for St. Johns County School District.