Pacetti Bay Middle School regularly uses volunteers in a number of areas such as textbook room, concessions, proctoring, field trips, chaperoning, event ticket sales during lunches, sporting events, drama productions, band, club sponsors, parent conferences and PTSO – the opportunities are plentiful! They exist during school and after school hours so helping out can fit almost anyone's schedule!
For the safety of the students and staff at Pacetti Bay, St. Johns County School District has a policy where all visitors must complete a volunteer online school access form which is good for three years. When doing so you are agreeing to a criminal background check and a sexual offender check. You are also agreeing to abide by the policies and procedures of the St. Johns County School Board and its facilities while volunteering. The process can take two – six weeks to process your form.
If you have any questions feel free to contact Dawn Gillis.
FortifyFL is a website and app developed at the direction of the Florida Legislature. Any student, educator, parent or member of the public can report school safety concerns directly to law enforcement and school administrators anonymously and easily through the FortifyFL app or getfortifyfl.com.
2021-2022 Instructional Materials Adoption for Mathematics UPDATE
St. Johns County School District curriculum department representatives and adoption committee members have completed the review process for the Instructional Materials Adoption for Math. On January 25, 2022, the School Board will conduct a public hearing to receive comment from the community regarding the final list of recommendations for instructional resources for this adoption. The public is invited to attend this hearing. The hearing will be held at 9:00 a.m. in the auditorium of the District Administrative Building located at 40 Orange Street in St. Augustine.
We encourage parent and community participation in our adoption process. Please visit our Instructional Materials Adoption web page to:
View the resources that are being considered for adoption.
Find out how to serve on a school committee and formally review the resources as a part of the school review team.
Learn more about the policies and procedures for textbook adoption.
B.E.S.T. Standards Presentation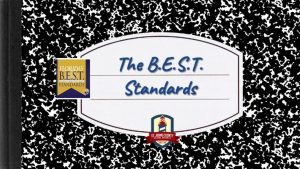 The purpose of the video is to provide parents and community members with information about the new B.E.S.T. Standards for English Language Arts and math. The video also explains the timeline for the implementation of the new standards.
View the B.E.S.T. Standards Presentation
Apply Now for a High School Career Academy / Program of Choice
Families of Current SJCSD 8th and 9th Graders,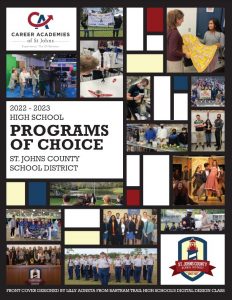 Students in 8th and 9th grade may apply for enrollment in a Program of Choice for any of the St. Johns County School District high schools.
Programs of Choice include high school Career Academies, IB and AICE acceleration programs, JROTC, Early College Program, and the St. Johns County Center for the Arts (SJCCA) at St. Augustine High School.
To learn more, please visit the Career & Technical Education website.
Ready to Apply?
All current 8th and 9th graders may apply by completing the general application in
Home Access Center (HAC)
. Eligible students who are currently attending a private school, home school, or a virtual school may also
apply to a Program of Choice
. The deadline to apply is
5pm on February 10, 2022.