New for 2023-2024 — Students will now use Clever to access Schoology, Office 365, Online Textbooks, and other Links for Students.
11/21 –  Pajama Day $2.00
11/22 – 11/24  Thanksgiving Break
11/28 & 11/29   Band Pictures
12/1 – Winter Dance – Click the link below to pay   https://pbmsptso.memberhub.com/store/items/964236
 12/8 (6:00pm), 12/9 (2:00pm) Beauty & The Beast Drama performance
LOCKERS
Lockers are optional. Students may choose to rent a locker for $5/year through School Pay.  Rented lockers will be delivered to students within one business day. We can typically assign lockers to students the next day after payment is received through School Pay. 
HONOR ROLL PROGRAM
The St. Johns County School District Honor Card program has gone digital!  If your child is on the A/B honor roll and in grades 3 – 12, you have the opportunity to receive discounts at some very fun and exciting places in St. Johns County.  Instead of paper honor cards, you will now show business participants your phone and receive these discounts. 
On your smart phone go to https://myhonorcard.com.   Place your child's student ID number and date of birth in the boxes.
Pacetti Bay Middle School regularly uses volunteers in a number of areas such as textbook room, concessions, proctoring, field trips, chaperoning, event ticket sales during lunches, sporting events, drama productions, band, club sponsors, parent conferences and PTSO – the opportunities are plentiful! They exist during school and after school hours so helping out can fit almost anyone's schedule!
For the safety of the students and staff at Pacetti Bay, St. Johns County School District has a policy where all visitors must complete a volunteer online school access form which is good for three years. When doing so you are agreeing to a criminal background check and a sexual offender check. You are also agreeing to abide by the policies and procedures of the St. Johns County School Board and its facilities while volunteering. The process can take two – six weeks to process your form.
If you have any questions feel free to contact Kara Wolfe
Instructional Materials Adoption Update
The adoption review of Social Studies resources for the St. Johns County School District has ended. Resources that were selected by adoption committees for submission to the School Board for adoption consideration are available online. All selected resources have been approved and adopted by the Florida Department of Education. Updates will be posted when appropriate.
Some print materials may be available for review. If you would like access to the available printed materials or require assistance reviewing the online resources, please call the Instructional Resources and Media Services office at 904.547.3947. Materials are available for review from 8:30 AM - 4:00 PM when district offices are open.
For more information about the textbook adoption process, please visit the Florida Department of Education Instructional Materials web page.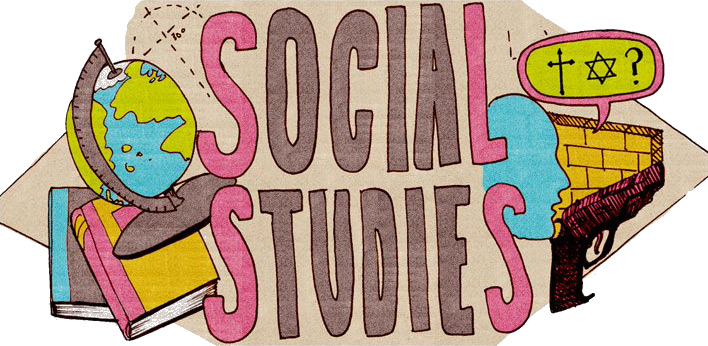 "Strategies Parents and Caregivers Can Implement to Address Anxiety Related Symptoms in Their Students" Online Discussion on December 5
Please join us on December 3, 2023, from 6pm to 7:30pm for a virtual discussion titled "Strategies Parents and Caregivers Can Implement to Address Anxiety Related Symptoms in Their Students." The discussion will be presented by guest speaker Marlena Jenkins.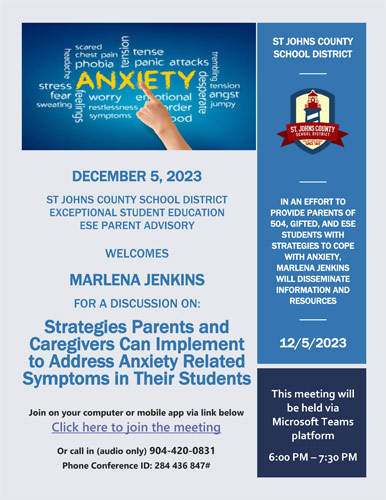 FortifyFL is a website and app developed at the direction of the Florida Legislature. Any student, educator, parent or member of the public can report school safety concerns directly to law enforcement and school administrators anonymously and easily through the FortifyFL app or getfortifyfl.com.