Summer Camps

s
ummer Venture for uprising 6th Graders
Summer Venture 2016
Theater Camp
Session B – July 18-22 – 9:00 – 1:00
Pacetti Bay will be offering a summer theater camp to all rising 6th & 9th graders!
Theater Camp Information
Theater Camp Registration
Flagler Athletic Sports Camps
Flagler Camp Information

The PBMS Summer Reading assignment for upcoming 6th-8th graders has been posted on the Media Center website.  A copy will also be mailed home with report cards.  Students are to turn in their assignments to their homeroom teacher no later than Friday, August 19th.
***The Just for Parents section of the Florida DOE website has helpful information for parents! Parents can sign up to recieve weekly tips and a monthly newsletter highlighting the latest news in Florida education!
***Parent Assistant is now the Home Access Center (HAC). You can use the same log-in information from last year. Click here to access the HAC! If you need a username and password, please fill out this form and return it to the guidance office. Learn more about HAC.
If you are a person with a disability who needs assistance and plans to attend a school meeting or program, please contact Pacetti Bay Middle School with your specific need at (904) 547-8763.
---
Free Use of High School Outdoor Facilities This Summer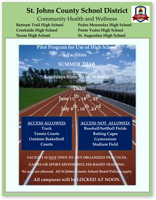 For six Saturdays in June and July, outdoor facilities at each of our high schools will be open for public use to promote community health and wellness. Some restrictions apply.
Please view the flyer for details.
SUMMER OFFICE HOURS 7:30AM – 3:30PM
Registration Hours 7:30AM – 2:30PM 
---
7TH GRADE IMMUNIZATIONS REMINDER
All rising seventh grade students are required to have a tetanus-diptheria-pertussis (Tdap) booster PRIOR to entering 7th grade. If your student needs this immunization, please obtain it and bring the updated DH680 for to Pacetti Bay at your earliest convenience. The Health Department or your physician will update your DH680 form. You can pick up your current form at the school or you will need to obtain a new original form complete with all prior shots documented. The Health Department is located at 200 San Sebastian View, St. Augustine. Hours of operations, for immunization services, are Monday & Tuesday 1:00 p.m. – 4:00 p.m.; Wednesday through Friday 8:00 a.m. – 11:00 a.m. The Health Department phone number is (904)209-3250. As a reminder, our administrative office will be at Pacetti Bay this summer. If you have any questions, please call our Guidance Department at (904)547-8760 or (904)547-8773
FREE IMMUNIZATION INFORMATION
Pacetti Bay Presents: High School Musical!
---