Grade Level News
---
Parent News
---
We ARE Wildcats, this is how we …
Respect
On Time & Prepared
Active Learners
Responsible & Safe
INFORMATION FOR RISING 6TH GRADERS
Rising 6th Grade Course Registration
SUMMER VENTURE INFORMATION FOR RISING 6TH GRADERS
Summer venture 2016
7TH GRADE IMMUNIZATIONS REMINDER
All rising seventh grade students are required to have a tetnus-diptheria-pertussis (Tdap) booster PRIOR to entering 7th grade. If your student needs this immunization, please obtain it and bring the updated DH680 for to Pacetti Bay at your earliest convenience. The Health Department or your physician will update your DH680 form. You can pick up your current form at the school or you will need to obtain a new original form complete with all prior shots documented. The Health Department is located at 200 San Sebastian View, St. Augustine. Hours of operations, for immunization services, are Monday & Tuesday 1:00 p.m. – 4:00 p.m.; Wednesday through Friday 8:00 a.m. – 11:00 a.m. The Health Department phone number is (904)209-3250. As a reminder, our administrative office will be at Pacetti Bay this summer. If you have any questions, please call our Guidance Department at (904)547-8760 or (904)547-8773
FREE IMMUNIZATION INFORMATION
Summer Camps at the Bay

Band Camp – Beginning and Advanced 6.6.16 – 6.9.16 –  9:00 – 2:00 (see band website for more information)
Theater Camp
Session B – July 18-22 – 9:00 – 1:00
Pacetti Bay will be offering a summer theater camp to all rising 6th & 9th graders!
Theater Camp Information
Theater Camp Registration

Flagler Athletic Sports Camps
Flagler Camp Information
Bartram Trail Summer Basketball Camps
BTHS Basketball Camp – Boys
BTHS Basketball Camp – Girls

Swiss Point Summer Basketball Camp
SPMS Summer Basketball Camp

The PBMS Summer Reading assignment for upcoming 6th-8th graders has been posted on the Media Center website.  A copy will also be mailed home with report cards.  Students are to turn in their assignments to their homeroom teacher no later than Friday, August 19th.
---
Free Use of High School Outdoor Facilities This Summer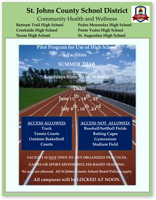 For six Saturdays in June and July, outdoor facilities at each of our high schools will be open for public use to promote community health and wellness. Some restrictions apply.
Please view the flyer for details.
---

Final Report Cards
Congratulations on completing a successful year at Pacetti Bay Middle School! Final grade calculations will be finalized and Report Cards will be mailed home the week of June 13th. Have a wonderful summer!
 **Medication pick-up by May 26th**
A Little Bit of History Right Here at PBMS
In culmination of the 8th grade ELA, Anne Frank/WWII Unit, students at PBMS were visited by Mr. Bob Fischer, a Holocaust survivor, born in the former Czechoslovakia in 1935.  In 1941, Bob and his family fled their homeland for refuge in Hungary.  A year later they returned to Czechoslovakia and shortly thereafter were interned in the Theresienstadt Ghetto Camp, north of Prague where they remained until they were liberated by the Soviet Army in May, 1945.  In 1948, at the tender age of thirteen, Bob (as he insisted everyone call him) immigrated to the United States where he enrolled in school for the first time, entering the seventh grade, where he learned English.  Bob attended UF and later earned a degree in accounting from UM, where he also won a state championship for basketball.  He worked in the not-for-profit field for seven years in Jacksonville, then five years in Pittsburgh, followed by forty years in New York City before retiring and returning to live in Jacksonville, again.
Pacetti Bay Presents: High School Musical!
Congratulations to April's Character Counts! Winners. Each grade level picked three students that exemplify April's Character Count trait of Responsibility. These students do what they are supposed to do, keep trying, do their best, accountable for their actions, and think before they act.
Winners (left to right): Abbye Ziemer, Maria Ribot, Stella Asiamah, Kennedy Williams, Dalton Heiskell, Robert Holmes, Zoya Kovach (not pictured: Nicole Klucharich & Chloe Williams) Congratulations!
Pacetti Bay PTSO Website
Please see our Weekly E-News by clicking the News link on the top of this page!
---
Submit your email address at school to receive our E-News via email.

***The Just for Parents section of the Florida DOE website has helpful information for parents! Parents can sign up to recieve weekly tips and a monthly newsletter highlighting the latest news in Florida education!
***Parent Assistant is now the Home Access Center (HAC). You can use the same log-in information from last year. Click here to access the HAC! If you need a username and password, please fill out this form and return it to the guidance office. Learn more about HAC.
If you are a person with a disability who needs assistance and plans to attend a school meeting or program, please contact Pacetti Bay Middle School with your specific need at (904) 547-8763.
---
Important Telephone Numbers
Main Office: 904-547-8760
Guidance Office: 904-547-8773
Dean of Students: 904-547-8760
Cafeteria: 904-547-8776
Main School Fax: 904-547-8765
Guidance Fax #: 904-547-8775
Pacetti Bay Middle School Mission Statement
Pacetti Bay Middle School exists to inspire within its students a passion for lifelong learning and a commitment to personal integrity and academic excellence. Students will aspire to be critical thinkers, internationally minded, and responsible global citizens who display a balanced sense of social responsibility for their local community and the world at large.

International Baccalaureate MYP Programme
Information about IBMYP

"Education is the most powerful weapon which you can use to change the world." -Nelson Mandela
St Johns Middle School Athletic Association
Learn more about middle school sports provided by the SJMSAA.
The SJMSAA middle school sports program is not operated or sponsored by the St Johns County School District. SJMSAA is an independent, private, non-profit corporation, which uses District middle school names and facilities under a license agreement with the District, and which is solely responsible for the operation of the SJMSAA middle school sports program and its individual teams.